February 5, 2021
By: Terry Abel
At that time Jesus came from Nazareth in Galilee and was baptized by John in the Jordan. Just as Jesus was coming up out of the water, he saw heaven being torn open and the Spirit descending on him like a dove. And a voice came from heaven: "You are my Son, whom I love; with you I am well pleased."- Mark 1:9-11

My trip to the Holy Land was full of special moments. However, time spent near the Jordan River where Jesus was baptized was not one of them. I had such high expectations of seeing where the King of Kings was baptized, and yet, when I sat down next to my sister-in-law Kim on one of the benches near the river, I was disappointed. The river was on the narrow side and brown. Three young people near us, who were part of the Israel army, held machine guns and were ready to shoot at a moment's notice any person trying to cross over the Jordan border into Israel. Flies were everywhere. Someone explained to me that the reason why, was because the garbage had not been taken out in a timely manner.
One bright spot in that area, however, is they have, near the baptismal site, plaques of Mark 1:9-11 in different versions donated I believe, by various organizations. I especially like the one by Friends of YWAM, Hawaii in Hawaiian Pidgin: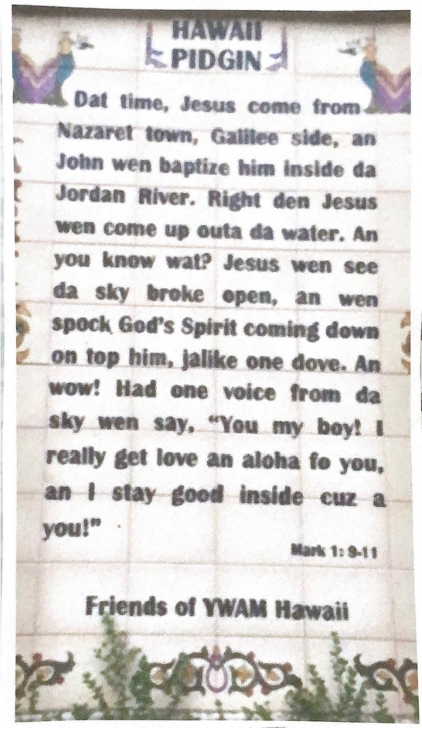 Hope you get a laugh out of this version, as I did, and a reminder too that even if experiences in our lives don't always match our expectations, there are bright spots in the darkness, as there are in this unique season of Epiphany, which is taking place during an unprecedented global pandemic.