Promoted to Intercessor
First of all, then, I urge that supplications, prayers, intercessions, and thanksgivings be made for all people, for kings and all who are in high positions, that we may lead a peaceful and quiet life, godly and dignified in every way. This is good, and it is pleasing in the sight of God our Savior, who desires all people to be saved and to come to the knowledge of the truth. For there is one God, and there is one mediator between God and men, the man Christ Jesus, who gave himself as a ransom for all, which is the testimony given at the proper time. For this I was appointed a preacher and an apostle (I am telling the truth, I am not lying), a teacher of the Gentiles in faith and truth. 1 Timothy 2:1-7
I heard a story (long ago! not our current bishop) about a bishop who had contracted a degenerative disease. He was forced to give up his position in the church because he just couldn't do the job any longer. A friend offered him sympathy saying, "Bishop, I'm so sorry you have to leave your job. I'm so sorry you can't be bishop anymore."
And he answered thoughtfully, "Actually, I think I'm being promoted – to the job of intercessor."
That's a job we all share, a title every Christian can own: "intercessor." One who prays for others. And what a privilege that is! To take seriously the command Jesus gave us, to pray. To take seriously the model Jesus gave us, as he himself would find a quiet place where he could pray. We know that he himself was an intercessor, for in John 17 is recorded a long intercessory prayer that Jesus prayed for his disciples, for the world, and for you and me. Jesus prays for you, did you know that? Check out John 17:20-21:
"I do not ask for these only, but also for those who will believe in me through their word, that they may all be one, just as you, Father, are in me, and I in you, that they also may be in us, so that the world may believe that you have sent me."
So, make a list. (Incorporate the list provided by St Tim's each week!) And pray for each person as the Holy Spirit directs you.
Here's an easy way to organize your prayers. Consider your hand with all the fingers spread out, and your thumb pointed at yourself. Pray like this: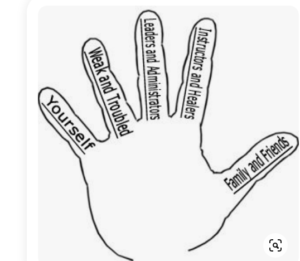 The thumb is for those nearest and dearest to you (family and friends).
The pointer finger is for those who point you the right way (teachers, healers, pastors).
The tallest finger is for those who lead our institutions: government, work, church, school.
The fourth finger (usually the weakest) are for those weak and troubled.
And finally, the smallest – is for yourself.
You have been called to be an intercessor! Whatever you do in life, that's a promotion.
Let us pray: Lord Jesus, you have taught us to pray, and you pray for us. Inspire us now by your Holy Spirit, how to pray and for whom. Heal, comfort and support those who are experiencing difficulties. Open up minds and hearts to those seeking you. Make us open and willing to reach out to anyone who might need encouragement and/or support. Do the work only you can do to transform lives.
And now, hear us as we pray….
(Your list).
Amen.
Now, praise God for hearing your prayer, and
for making you an intercessor.