Train up a child in the way he should go, and when he is old he will not depart from it.
Proverbs 22:6
Proverbs doesn't contain "doctrine" the same way, say, Paul's letter to the Romans does; rather, it contains observations regarding how life generally works. Not 'guarantees" like the warranty that came with your dishwasher but rather the kind of "best-results-will-be-obtained-if" advice you find in the owner's manual.
I thought about that with regard to the above verse today in an email exchange with one of our people regarding raising children. There are no "magic rules" that guarantee success; we've all seen children, pretty much identically raised, who go off in completely different directions. Many of us have both rejoiced over and wept over our children as they grew older. Overall, though, there is a lot to be said for families in which parents are spiritually on the same page and faithfully bring their children to church, teach them about Christ, and introduce them to Scripture.
Being raised "in the church" is a great blessing and one perhaps all too often taken for granted by those of us who have grown up that way. We've probably all heard the African proverb, "It takes a village to raise a child." That was the experience of both Judy and me in our being raised as young children. My first memories are of our congregation in San Bernardino where Judy's father was the founding pastor, my father the president of the congregation, and my mother (and probably at times Judy's mother) head of the women's group. I remember the happy chaos of potluck suppers in the fellowship hall (basically, the sanctuary with the folding chairs taken up), where my brother and I tore around with Judy's brothers — and the "old folks" indulgently tolerated us. We grew up loving the place.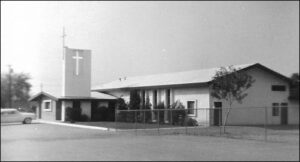 Highland Avenue Lutheran Church, San Bernardino, California
So many wonderful peers of our parents were a part of raising us. Tryg and Thelma, Ruth and Perry, Archie and Verna. Now only one is left — the wife of my father's best friend, whom we visit at least once a year at the retirement community where she and her husband and my parents ended up living. I remember one evening, perhaps fifteen years ago, visiting my father there (I think my mother had passed away by then). It was dinner, and we were sitting at this round table — not only us and my father and that other couple but also two other elderly couples from that early group who had come to visit. I remember, at one point, looking around the table at those oh-so-familiar faces and thinking, "These are the people that raised us." And so they were. And I thanked God for each one of them.
Good memories — the kind of memories we then tried to create for our own children over the years as we raised them. I think of that now as I have watched (and look forward to watching again) young couples at St Timothy's faithfully bringing their children to worship and other events, doing their best to "train them in the way they should go" and to know who Jesus is. I even enjoy watching the small ones tearing around the Fellowship Hall and older folks letting them — because it brings back some good memories. May we soon be able to do these things again. And may we all strive to play our parts in being that "village" that helps families raise their children to know Jesus.
One day fifty years from now, perhaps some of these now-young couples will meet around a dinner table in a retirement community and remember those days at St Timothy's when God was using a village to build young lives.
Heavenly Father, thank you for faithful parents — our own who raised us as well as those we watch raising children today. Give wisdom to all who seek to be a part of your Holy Spirit's work of faith formation in the next generation. And help all of us to be a part of the St Timothy's "village" of support, encouraging young parents and young children. For those of us with young and not-so-young children, give us the patience, energy and wisdom we need in this very challenging task of "training up our children in the way that they should go" — so that "when they are old they will not depart from it" … or from you. For we pray in Jesus Name. Amen.