Adaption by Tim J Stahlke
Filled with hope from God
"Now may the God of hope fill you will all joy and peace in believing, that you may abound in hope by the power of the Holy Spirit."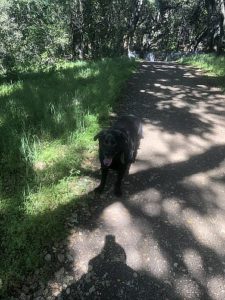 Toby and I see it every hike, all around people out using the trails enjoying the outdoors and the beautiful days that are here in San Jose and the East Los Gatos Foothills. The spring days bring hopes along with the warmer days come open windows and fresh air. The cool evenings are equally welcome. Birds are active, singing their songs, flying through the air, newts and lizards scurrying across the ground, relishing all that each new day brings.
Within our own congregation God continues to bring good and hope into the world through our Pastors, Lay leaders, all of us helping and checking in with each other. Perhaps our senses are better attuned to it now, as the limitations that have been placed upon us have lessened the distractions (as Pastor Jim mentioned in Sundays sermon)and helped us to focus. True hope – different from wishful thinking or fanciful desire – is a confidence in what will surely come to pass but has not yet arrived. The claim in the Scripture above is that this hope is found in your Creator, your Source of being, the One who loves you more than you know. Putting your confidence in the God of hope, you will find the fullness of joy and peace ( so strong and unique its beating our understanding . As you continue to open your heart to Him, hope increases – and God uses you to encourage and lift the spirits of those around you. Signs of life and hope – they're all around you. Evidences and expressions of God-with-us, the One ever-present for you; and they're sometimes seen in a Zoom window, or heard through a comforting voice on the phone or out in Gods amazing creation on a trail with your dog.
Good and gracious God, signs of life and hope surround me. In them I sense Your presence, Your goodness, Your grace. Draw my heart to you. Fix my eyes on Your present goodness. Help me appreciate the kindness of strangers and the hope that is welling up in the community around me, in the face of this ongoing crisis. In these days and always, help me to find my hope in You, the One who has been and always will be – ever faithful. As you fill me today with the hope that abounds, may I be a conduit of hope to those in despair, that You might work through me to accomplish Your good purposes on earth as it is in heaven. Amen.