Vacation Bible School
June 18-22, 2018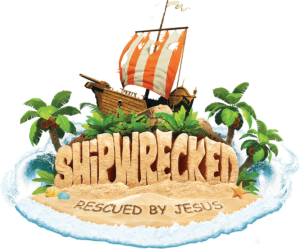 At Shipwrecked VBS, kids will discover how Jesus rescues us through life's storms. Sciency-Fun Gizmos, team-building games, cool Bible songs, and tasty treats are just a few of the standout activities that help faith flow into real life. Kids will also participate in a hands-on mission project to help make a difference in the world around them!
Questions about VBS? Need Scholarship?
Interested in volunteering?
9am-12noon
AGES: 2 1/2 – 6th grade
FEE: $85
Scholarships available as needed.
(Extended care available 7am-6pm
Must pre-register; no drop-ins)
~ Jr High & High School Students ~
There is currently a waitlist to serve as a Crew Leader or Volunteer.
Contact Joe Hill (joe.hill@stlcsj.org) if you are interested in serving but have not yet applied.
Looking for additional Summer Camps?