NOTE: Due to Santa Clara County COVID-19 guidelines, the pastors and staff are working mostly from home.
Email is the best way to get in touch.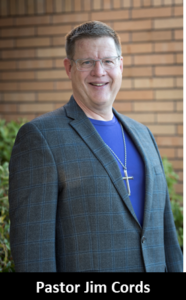 Pastor Jim was born and raised in Lynwood, CA. He developed and love for the Ocean at an early age and was an avid swimmer and played Water Polo in High School. His home church, St. Paul's Lutheran Church, nurtured in him a deep love for Jesus and the Scripture at an early age. He has a college degree from Azusa Pacific University with an emphasis in Christian Education and M.Div. from Luther Seminary.
Ordained in 1990, he has served 3 congregations in California (San Diego, Santa Rosa and Cupertino) and 2 in Tucson before returning to CA with St. Timothy's.
He has been married to Marilyn since 1986 and they have two grown children and three grandchildren with more on the way.
His recent years of ministry have been particularly blessed with opportunities to grow and to be engaged with pastors and other church communities. God has provided opportunities to bring glory to Him in the city and in friendships with brothers and sisters in Christ across denominational and racial lines.
Together with Marilyn, he has also had the enormous privilege to be in partnership with the global Church. They have served with Hope School in Antananarivo, Madagascar, Mission of Hope in Haiti, and a shelter building ministry in Agua Prieta, Mexico. It is an honor to serve Christ together and to be blessed by brothers and sisters in Christ throughout the world.

He enjoys riding his bike and scuba diving and is looking forward to developing new relationships throughout San Jose and beyond.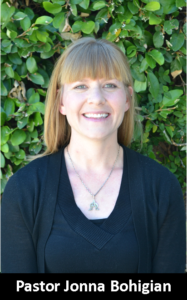 Pastor Jonna comes to us from Fresno. She is married to Alek Bohigian and they have one young son, Dax. She graduated with an M.Div in 2014 from Fresno Pacific Biblical Seminary, which is where she met her husband. She graduated from Azusa Pacific University in 2007 with a B.A. in Psychology. In-between her studies at APU and FPU, Jonna taught English as a foreign language in Ostrava, Czech Republic. She joined the St. Timothy's pastoral staff in April 2017.
She enjoys travel, languages, running, reading, friendships, and seeing God at work in His restorative mission.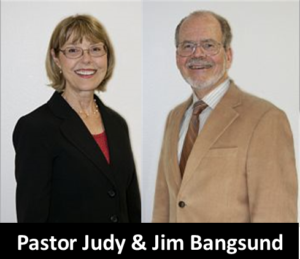 Judy and Jim Bangsund,

Part-Time Visitation Pastors
Pastor Judy and Pastor Jim Bangsund are currently serving St. Timothy's as our Part-Time Visitation Pastors having retired from their full-time pastoral roles. They mostly work from home so the best way to get in touch is through email.
Contact: 408-264-3858, ext 201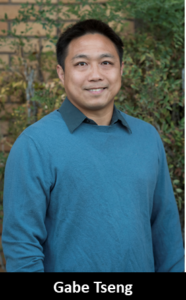 Gabe Tseng,

Director of Discipleship and Communications
Gabe is local to the Bay Area, playing and coaching soccer and wrestling. After running away from serving the church, God got him much like He did with Jonah, and after his own efforts of achievement in degrees in English Literature and Education and teaching in Junior high, high school, and community college, Gabe began serving in primarily Baptist churches as a renaissance man, preaching, teaching, working with leaders, and serving God's people in wide capacities. His heart is for strangers to become neighbors, neighbors to become friends, and for friends to become family, with no greater family than the family of God.
One such stranger was Gabe's wife, Lori, whom he married in 2011. They are lucky to have a neat, social daughter in Karis, and a son in Kaden, who loves construction vehicles. They are a family that loves being together and joining their lives with others in every season.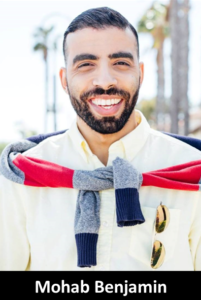 Mohab Benjamin,

Director of Music Ministry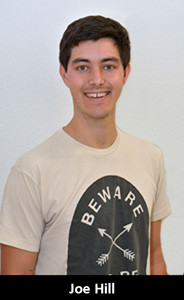 Joe Hill,

Director of High School and College Ministry
Joe is a San Jose native and has been a lifelong member of St. Timothy's. He was Youth Ministry Intern starting in 2008 and came on staff as Director of Youth and Family Ministries in September 2010. He has a BA in Youth Ministries Leadership from Bethany University.
His passion is for equipping young people to have a faith that lasts a life time, and for teaching and showing others how to grow as disciples. He enjoys mountain biking, rock climbing, reading and playing the bass guitar. He has been married to Elizabeth since 2015 and they have two young daughters, Avery and Kayla.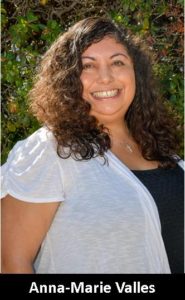 Anna-Marie Valles,

Director of Middle School Ministry
Anna-Marie is a bay area native. She began her faith journey at a tender age of 9. At 12, sitting in chapel at her Christian school, she felt called to pursue full time ministry.
She started working in youth ministry in 1990 and has been on the St. Tim's staff since 2017. She studied Social Work at both Pacific Christian College & San Jose State University. During the last 20 years she has worked for Youth for Christ as their Ministry Director, establishing outreach clubs in the public schools. Her programs minister to over 500 students weekly.
She is regularly called as a guest speaker for camps and church events to share her unique perspective on sharing the Gospel with young people in this day and age. Anna-Marie enjoys attending Golden State Warrior basketball games, reading, and spending time with her husband, Sam. She & Sam have an English bulldog named Barney.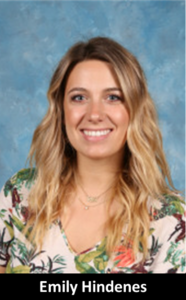 Emily Hindenes,

Director of Children and Family Ministries
Emily is a San Jose native and grew up in St. Timothy's church! She is an alumni of St. Timothy's Lutheran School and attended Castillero Middle School and Pioneer High School.
Growing up in the world of teaching, with her mother being a teacher for the past 20+ years, she decided to pursue education. Attending Concordia University in Irvine, CA she graduated with her credentials and Bachelors Degree in Liberal Studies with a minor in Child

Development.
She taught at Los Gatos Christian School as a 5th grade teacher for two years before joining St. Timothy's. She is happy to be working with families and children in developing their faith life and back at the place
that helped shape her!
Emily loves her family and is a proud dog owner! She enjoys spending time outdoors, painting, and going to her favorite place, Disneyland!
Contact: 408-264-3858, ext 119 or emily.hindenes@stlcsj.org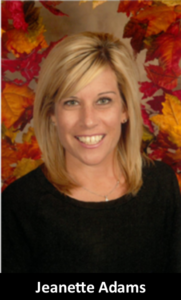 Jeanette Adams,

Director of St. Timothy's Christian Preschool
Mrs. Adams has been in Early Childhood Education for 20+ years. Mrs. Adams has her Associates Degree in Early Childhood Education and is Director Qualified. Mrs. Adams has taught all levels of development from birth thru Junior Kindergarten and has a passion and love for Early Childhood Development.
Mrs. Adams also has been developing curriculum for various local preschools for the past five years. Mrs. Adams also loves to mentor teachers and support parents in the challenges of educating and raising children.
Contact: 408-265-0244, ext 113 or jeanette.adams@stlcsj.org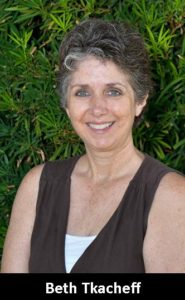 Beth Tkacheff

,

Office Admin
Beth has lived in San Jose all her life and has been attending St. Timothy's since a neighbor brought her to Vacation Bible School as a child. She has been working in the office at St. Timothy's since 2002, first as part-time and now full-time. She enjoys that part of her job is chatting with people on the phone, in-person and even on Facebook. She also loves to learn new things especially anything to do with tech gadgets or computers. She is grateful to God for the opportunity to serve him at St. Timothy's and knows that this is his calling for her.
She has been married to Mike since 1986 and they have 3 grown children. They are empty nesters sharing their home with their cat and dog, Goose and Maverick. In Beth's spare time you can find her reading a book or walking and biking the trails near her home.