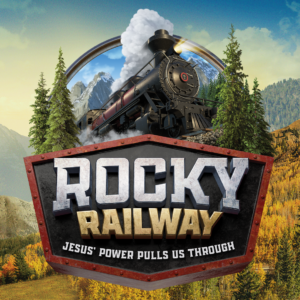 Stay on Track with
VBS-at-Home!
Welcome to Rocky Railway VBS – the summer event that puts kids on track for trusting Jesus! At Rocky Railway, kids explore Jesus' power and how we can trust Jesus to pull us through when life feels like a valley or a mountaintop. Although this VBS is a different experience than everyone expected, your children can still receive the hope, reassurance, and abundance of God's love.
We're happy to introduce you to Operation Kid-to-Kid. Kids all across America will get to help some families in need in Ecuador—a country in South America.
South America is home to the Andes mountains—the longest mountain range in the world that also has some of the highest peaks in the world! It's not easy to live in mountains so high, but people living in the Andes of Ecuador have figured out some amazing ways to make mountain life work. A big help comes from some four-legged, fluffy pals—alpacas.
Every $10 we collect for Operation Kid-to-Kid will buy an alpaca for a family who needs one in Ecuador. We encourage you to pray for families in Ecuador, and to get the whole family to help with the cause. Donate using this link, and make sure you note that it's for Operation Kid-to-Kid.